"The business successes I am most proud of during the Merriweather programme... meeting every forecast and at the same time growing."

"The 'before-and-after' we got with Merriweather has been incredible."

"The biggest surprise to results was the return to growth in the APPH business."

"Merriweather has demonstrated a tremendous ability to drive large scale change in people and their behaviours."

"Merriweather helped a well performing team focus on how to be even better."
Improving Business Performance
Business improvement with Merriweather is an iterative, engaging and highly productive series of business focused conversations and it's generally good fun too!!

It's the perfect leadership team meeting where your business gets done. The entire focus of your team meeting is your business and your people.

Typically leaders gather their extended leaderships teams (10-30 people) together with a Merriweather coach/facilitator for 2 days every quarter - this replaces all other leadership team meetings - generally giving everyone time back by not having to attend so many meetings.

The short term measure of success of these meetings is the delivery of the teams personal quarterly commitments - which are agreed at the conclusion of each quarterly meeting.

The output of these inspirational and empowering business meetings is an aligned, inspired and high performing team who increasingly hold each other accountable for the delivery of their personal commitments.

Equipped with clarity from their leader the team identify and resolve their prioritised business challenges.

Teams review, develop and contribute towards their short medium and longer term plans business plans.

Buy-in to some 'agreed ways of working' and 'the desired culture' of the team is achieved by investing time in leadership and team development conversations - helping to build a winning team of more exemplary leaders - with a common taxonomy and understanding of leadership, team work and effective behaviours.
---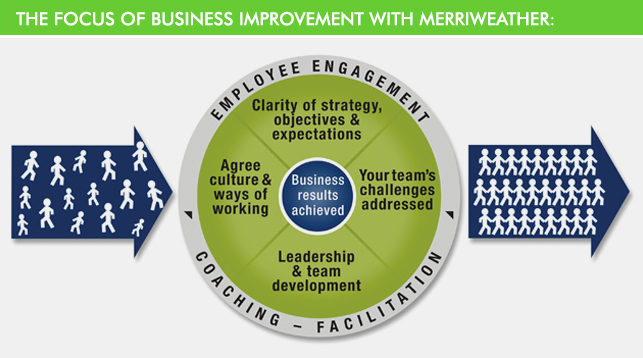 ---
These 3 points below describe a normal team:
80% of people who leave teams do so because of their leader.
30% of time is wasted in a normal organisation due to a lack of clarity.
75% of projects fail to deliver on time or on budget.

DON'T BE NORMAL - GET A HIGH PERFORMING TEAM - GET A MERRIWEATHER TEAM
High potential leaders, ambitious leaders and great leaders will always attract the greatest business challenges. When your opportunity to shine presents itself, imagine if you had a proven psychological process to 'plug into' to ensure your continued success. A process which will engage your team like never before to embrace the challenges ahead, move on from the past and enjoy working together to identify and resolve the business challenges between them and business success.
In our experience, most of the answers to most of your business challenges lie in the heads of your team members - imagine the impact of the team sharing freely, honestly and consistently all their experiences of your team and channelling that energy and experience into the prioritised areas.
Imagine your team uniting around resolving the challenges in your business and supporting each other to execute their plans and actions. Supporting each other to remain focused on what has been agreed as the priorities. Imagine the impact of all your team contributing to building your short, medium and long term plans. Imagine the business performance improvement you would achieve with a team who are aligned, inspired and totally engaged.
The corporate world is often flooded with good ideas, and there is often an abundance of good intentions too. All too often what's missing is the ability to get others to do what you believe is important - just do it! Execute! Engage with an inspirational Merriweather Business Coach to quickly and simply enjoy bringing your team together like never before - to improve your business performance.
Merriweather teams are not normal - Merriweather teams become famous for achieving over 90% of the quarterly commitments they make together. They also become teams which everybody wants to join and no one wants to leave - famous for getting the job done.
DON'T BE NORMAL - GET A MERRIWEATHER TEAM
---
Frequently asked questions:
Q. Who are our clients?

A. Typically we work with senior business leaders in multinational organisations.

We successfully partner with HR Leaders all around the World.

We work with 'not for profit' organisations and the occasional sports team also requests our help to achieve outstanding success.

---
Q. What do our clients achieve by engaging Merriweather services?

A.
Build high performance teams
Accelerating the performance of a business and team - turbo charge your team
Integration of new teams and new leadership - prior to, during or post M & A activities
Alignment of teams - ensure clarity in a business and team
Overcoming, accepting and implementing change
Achieving challenging business targets
Developing leaders and teams
Overcoming team and leadership dysfunction
---
Q. What does success look like when you engage with Merriweather?

A.
Winning teams
High performing teams
Career advancement
Bonus achieved
Targets exceeded
Empowered accountable leaders and teams - coming to work inspired and focused on getting the right job done
High performing teams famous for delivering what they say they will. (Merriweather teams typically deliver over 90% of their quarterly ambitious commitments)
A team people want to join and not leave
A fun place to work
Fewer and more exciting meetings
---
Q. When do leaders engage with Merriweather Business Improvement?

A. There is no one event or scenario which encourages leaders and teams to seek additional support to achieve further business success. It's more of a mindset around leading a winning team - winning teams don't happen by chance and need developing - regularly.

Teams seeking to go from good to great will engage Merriweather to support them in their journey and accelerate the rate of progress and change.

At times of great change, integrating new businesses or business units into existing business. Prior to or following M & A activities. When a new leader is appointed. When a team is struggling to fulfil it's potential. When a team is dysfunctional.
---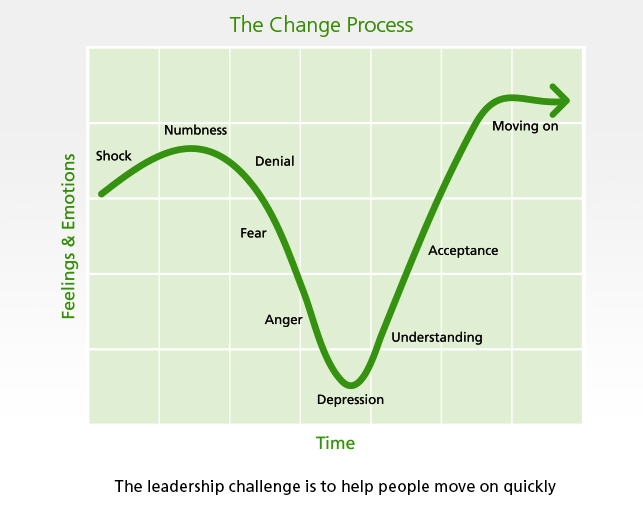 ---
Q. How long does Business Improvement take?

A. Leaders will typically engage in business improvement with Merriweather on a 12 month basis - meeting for 2 days per quarter.
We encourage new clients to try the first meeting and then review with their teams to see if they would like to continue the journey.
---
Q. Is there any preparation time required?

A. For the team no. No preparation required. It's just a business meeting.
For the leader - yes. Typically half a day.

The leader will spend some time with the coach prior to the meeting to capture the clarity around their business plans and prepare to share these thoughts in a more compelling simple and inspirational way than their team has seen before.

The entire business improvement process is about supporting the success of the leader - alignment and clarity between the coach and leader is essential.
---
Q. Where are the meetings held?

A. Over the past 20 years these meetings have been in some unusual venues all around the world. Typically the meetings are held offsite in meeting rooms in hotels where the team stay for one night - the evening together is part of the Business Improvement Process.
We try to avoid / minimise using the projector when ever possible - therefore we are not constrained by your choice of meeting venue.
It's generally more productive if we can get everyone away from the office.
---
Q. What's the difference between the quarterly meetings?

A. The outputs are shown below: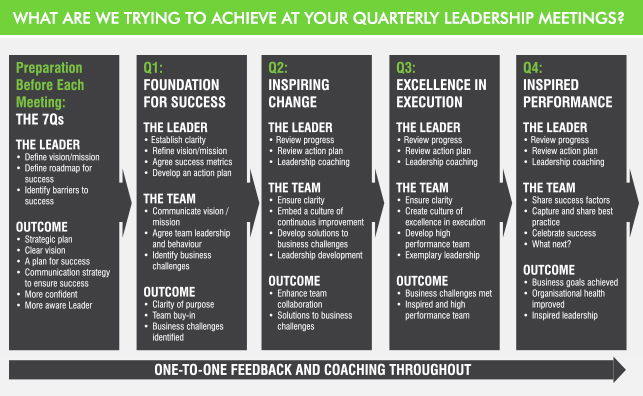 ---
As the team's performance improves more and more gets done - many conversations take less time - the outputs from the meetings become smarter and smarter business commitments owned and delivered by each and every team member. The leadership and team development conversations evolve at each meeting as each leader grows in experience.

Listen and watch other leaders describe their experience of Merriweather Business Improvement

---
Merriweather Supports Business Leaders In Over 40 Countries Around The World